Our display is the solution to your organisation's meeting room management problems.
Using our screens will increase your daily productivity by making your meeting rooms utilisation more effective and efficient.
Our 10.1 inch Room Booking Display provides a snapshot of the room activity for the day. It uses simple traffic light colours to instantly notify whether the room is in use.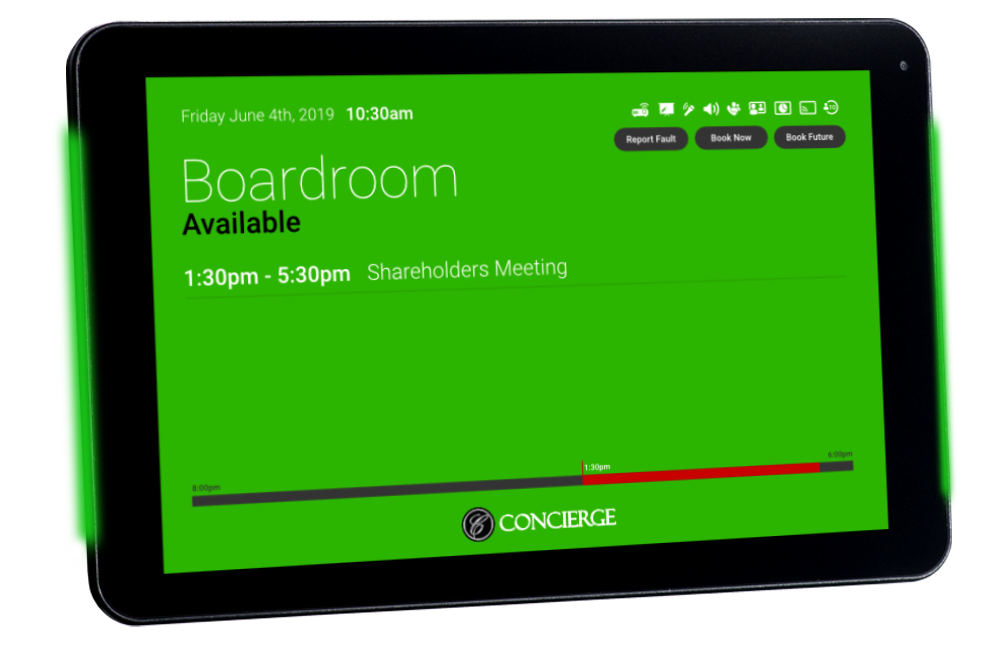 Sleek high quality displays
Effortlessly view your room's schedule on our 10.1 inch hardened glass touch-screens. Our displays have HD resolution (1280 x 800) and side LED indicators.
Our user friendly displays take the hassle out of managing your space. Either book your room immediately or for a future date or time, have the ability to extend or finish your booking early. Your AV room features are also displayed on screen and report room features errors through display.
Install our screens into your space with its Power over Ethernet (PoE) and Wifi connectivity. Multiple convenient screen mounting options for your wall or window. Our screens are compatible and easy to integrate with your server.
Room booking and summary modes
Our displays are customised to conveniently function in two modes, the Room Booking mode displaying one meeting room's availability and the Summary mode summarising multiple meeting rooms availability.
Our display screens are designed to be personalised. Have the ability to display the full calendar – daily, weekly or monthly booking information.
Monitor and manage your room
Use our complimentary program to track and monitor your meeting room management and utilisation. Learn more about our program, Companion.
Easily adjust your display to suit your working environment and branding. Adjust the logo, text, font and colour yourself or download one of our pre-made skin designs. Have the ability to add videos onto the display.
Room Booking Mode Functionality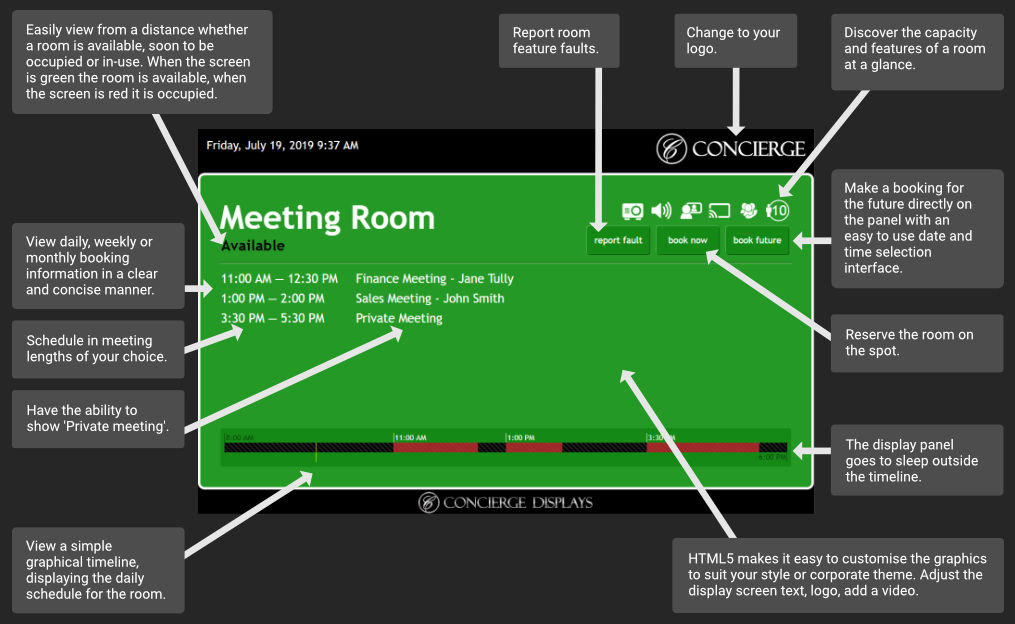 10 Inch Display Screen – ACMG10
Concierge 10.1″ Room Booking Display
Touch screen
Tempered glass
1280×800 resolution
300 nits brightness
POE & power supply
LAN & wireless
Side LED light bars
Include surface mount bracket
VESA 75×75 mount-ready
Syllabus Plus, Exchange, Google G Suite and Office 365 compatibility
Available in stand-alone mode
Web-based configuration and monitoring directly on display or via Concierge Companion
Dimensions: size: 10.62" (W) x 6.72" (H) x 1.12" (D), weight: 727 grams, individual packing size: 13.2" (W) x 3.39" (H) x 8.93" (D)
Adjustable skins, text and logo
Available in Arabic, German, French, Dutch, simplified Chinese and Traditional Chinese

Flush Wall Mount
In-wall box with articulating bracket. Black or white finishing.

Surface Mount
Supplied with each display. Comes with VESA MIS-D 75 mm x 75 mm mounting points.

Window Mount
Installed to an aluminium window frame with rear panel and cable management (available in 40mm or 10mm to suit different window frames).